Richard's Consulting Services Include:

A  CONSULTANT  is a professional who provides advice in a particular area of expertise . A consultant is usually an expert or a professional in a specific field and has a wide knowledge of the subject matter. A consultant usually works for a consultancy firm or is self-employed, and engages with multiple and changing clients. Thus, clients have access to deeper levels of expertise than would be feasible for them to retain in-house, and may purchase only as much service from the outside consultant as desired.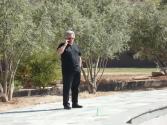 Hands on high-end construction project consulting, from the planning stages to the finished product.  He is personally involved in every step of your project.

Many years of on-the-job experience allows him  to guide his clients through the process and aids in avoicing costly errors in  both planning and application.

By listening to his Clients and understanding their needs,  Richard is able to provide conceptual sketches  which allow his Clients to visualize those ideas.

Special emphasis is placed on project vision, form, fit, finish, quality control and customer satisfaction.

Working  closely with his  Clients as their "project representative"  allows Richard to guide you  through the difficult  "decision-making" process of 

to add text.


C

selecting all the raw materials

selecting all finishes & finish applications

placement of furniture, fine rugs and art upon completion are all part of the high-end consulting service..

lick here to add text.